VNNOR
Client's Country: Norway
Engineers involved in this program: Our top engineers specializing in ReactJS, NodeJS and Docker
Timeline: 6/04/2020 - Present
Industry: Website Analytics and Machine Learning
Website: https://www.vnnor.com/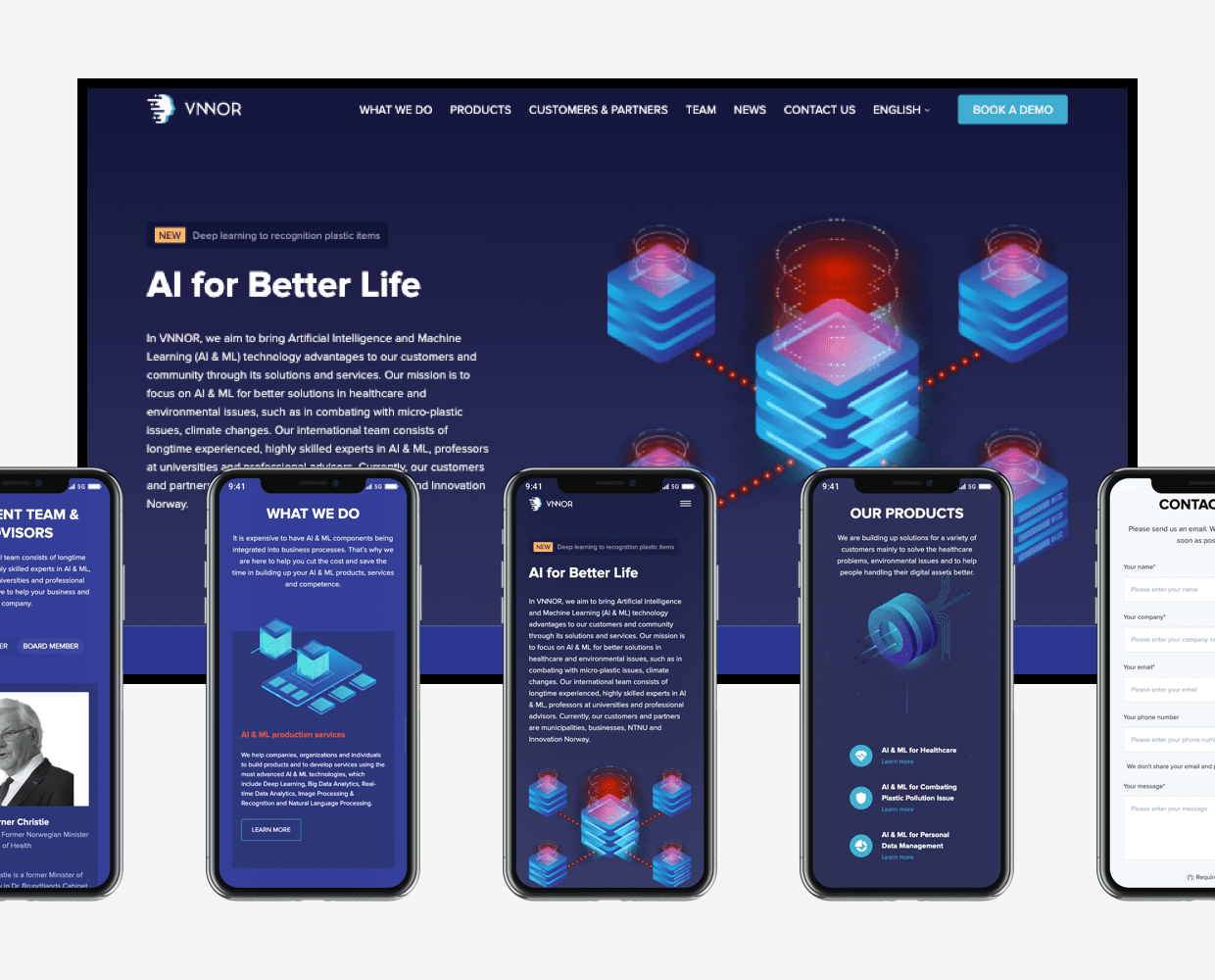 Overview
VNNOR is a website that wants to bring Artificial Intelligence and Machine Learning (AI & ML) technology advantages to companies, organizations and everyone through its solutions and services. Our focus is on AI & ML for better solutions in healthcare, data privacy and environmental issues, such as in combating micro-plastic issues, climate changes. Currently, we are collaborating with NTNU, Innovation Norway, Fosen Innovation and municipalities.
Challenges
Big data - a new technical subject, is the main core of this case study. Therefore, it requires engineers who have to make an effort in researching.
Technology solutions
We use NodeJS for the backend system. NodeJS automatically gets all Javascript perks such as speed, efficiency, performance, and free tools. Code executes rapidly, which improves the overall run-time environment. One of the most important features of Node.js is its ability to handle numerous requests at once. Programmers may simply hook nodes into the rest of the full-stack development because it is driven by JavaScript. This allows front-end developers to take on more challenging back-end programming responsibilities.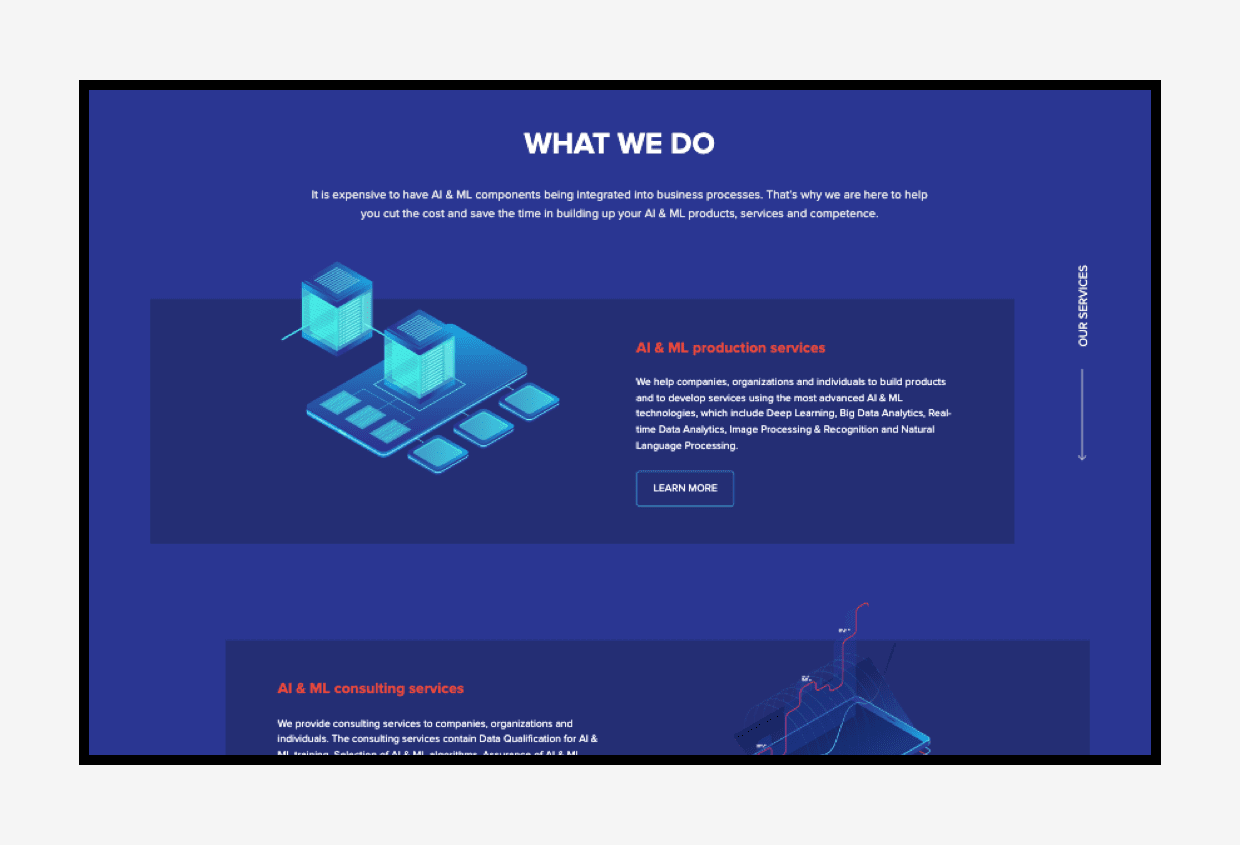 Core features
AI & ML production services: Assist corporations, organizations, and individuals in generating goods and services based on cutting-edge AI and machine learning technology.

Consulting service: VNNOR provides consultancy services to enterprises, organizations, and people on a variety of topics, including data qualification for AI and ML training, algorithm selection, and AI and ML performance assurance.

AI and ML training: VNNOR can help you and your company with AI and ML training as they have over 15 years of experience in the AI and ML industry.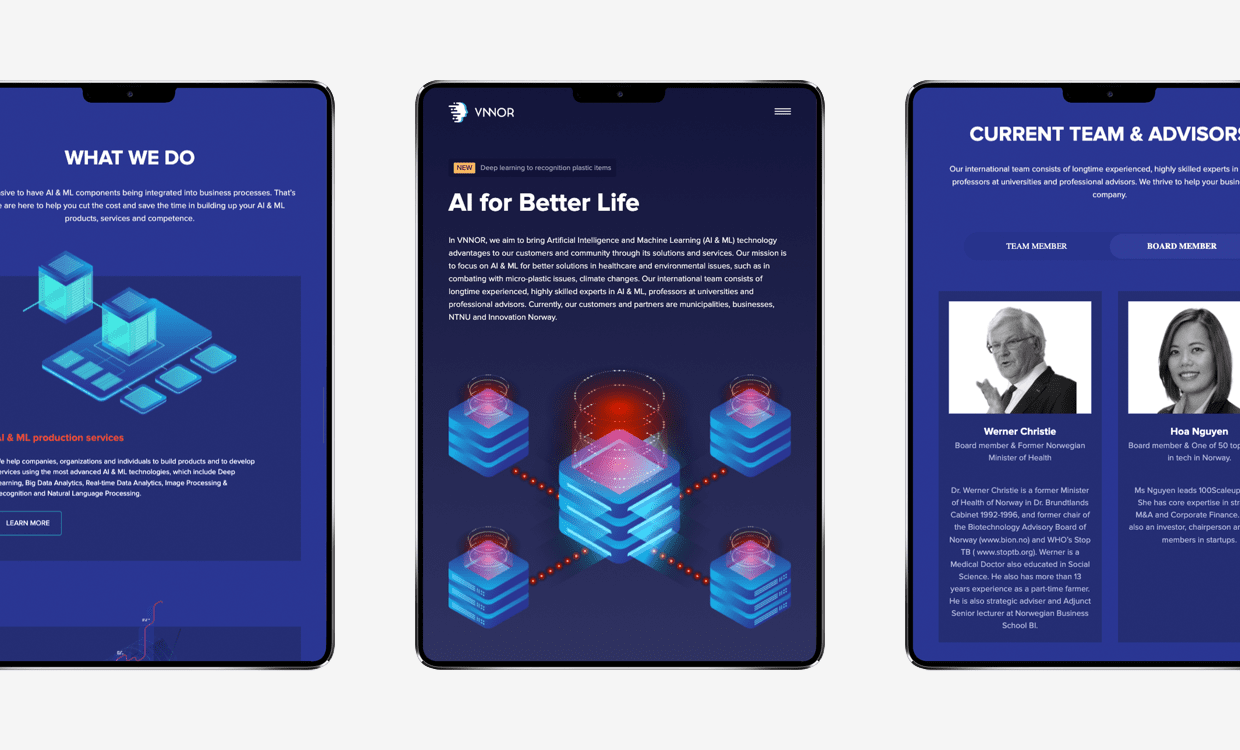 Final results
The innovative solution for workforce planning using AI and Machine Learning got a great support from Innovation Norway thanks to the team.

BOWI (Boosting Widening Digital Innovation Hubs), an EU-funded initiative, has released the names of the 24 selected experiments presented by SMEs and Midcaps that will enter the Support Programme for accessing innovative digital technologies, and VNNOR is one of the winners.